Adventist Review News
---
North American Division News
Loma Linda University Graduate Went from Watching Inflight Movie to Real-Life Hero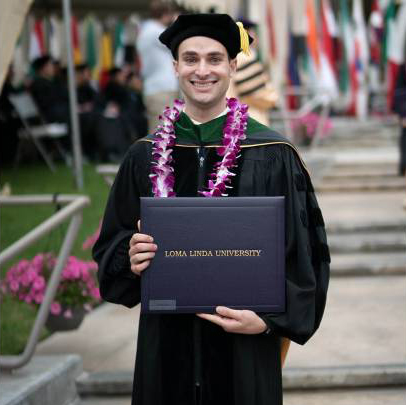 Finding something to do on an airplane has a new meaning for Dean LaBarba, M.D., who earlier this month traveled from Zurich to Los Angeles on a 12-hour flight and ended up saving the life of a fellow passenger after she abruptly collapsed. 
LaBarba, who graduated last month from Loma Linda University School of Medicine, was returning home with his wife, Ivy, after a celebratory trip to Sicily. It was on this trip he met his extended family for the first time. Overjoyed at the opportunity to spend time with his family, LaBarba was also looking forward to coming home and beginning his new journey as a medical professional. He just didn't imagine he would begin so soon. 
Approximately two hours into the Swiss International Airlines flight, LaBarba was watching a super hero movie when, all of sudden, his wife was alerted by a passenger next to them that the female passenger sitting to the left of them was leaning over. She indicated to another male passenger she did not feel well, and before she could get up to the restroom, she collapsed. 
It didn't take more than seconds for LaBarba to put on his new M.D. hat and leap into action. He crawled over his wife and immediately tended to the passenger, shouting at her, asking if she was OK. He could find no pulse and her body was cold to the touch. As she was unresponsive, LaBarba performed a sternum rub — commonly used on individuals who are unconscious or incapacitated in order to get a response.
"The sternum rub is never a comfortable thing, but because I was unable to get a pulse from her I had to try," LaBarba said. 
With the help of a male passenger, LaBarba made a makeshift bed out of the airplane seats and laid the passenger down. With no pulse in sight, LaBarba asked the flight attendant to retrieve a defibrillator. 
He quickly began chest compressions, shouting each count out loud. After a total of six chest compressions, the passenger began to regain consciousness.  
She was weak and very tired as she slowly sat up. LaBarba ran through her medical history, asking everything from "Do you have hypertension?" to "Did you take any medications this morning?" to "Do you have a history of diabetes or a heart attack?"
Both LaBarba and the flight attendant, also a nurse, took the passenger's blood pressure and glucose to make sure she was not hyperglycemic. Her blood pressure was considered low. Without the proper equipment, LaBarba was unable to diagnose the passenger with complete certitude and had to make decisions based on what he saw. 
"I remained at her side continually checking on her and asking if she felt any abdominal pain, chest pain, nausea or leg cramps," LaBarba said. "It's hard to say what happened in those 15 seconds after she collapsed, but I think she may have experienced a syncope episode."
A syncope is described as a drop in heart rate or blood pressure, ultimately resulting in fainting. 
The passenger and both LaBarba and his wife were moved up to business class. It was here where LaBarba kept a close eye on the patient. He checked on her every hour, ensuring her blood pressure remained steady. 
The flight's captain asked LaBarba if he needed to ground the plane in order for the passenger to receive additional help. It would be hours before they reached North America from over the Atlantic Ocean. As all of her vital signs and symptoms had stabilized, LaBarba said he determined she could make the rest of the flight. 
He noticed the passenger was a bit emotional following her collapse. LaBarba took it upon himself to ask her if she wanted to pray with him. She welcomed his prayers with open arms. 
"After we prayed, she was calm and able to regain her composure," LaBarba said. "Thanks to my training at Loma Linda University, I had the confidence to pray with a patient who was in need and address her spiritual needs."
During the flight's mid-air commotion, LaBarba's wife reveled in her husband's quick actions and bravery to help the passenger. 
"I was so proud to the point of tears," Ivy said.
Ivy recalls the other passengers gasping with fear as the situation went on, with many of the passengers standing up to see. "I did my best to be his assistant and move things as needed," Ivy said. 
When the flight arrived in Los Angeles, LaBarba and his wife were greeted with rounds of appreciation. He was thankful that the passenger did well throughout the flight and would safely be escorted from the plane and met by her son. There, they parted ways with the patient, who was to be safely ushered from the plane separately from the other passengers.  
"She was so grateful for my help in saving her life," LaBarba said. "Honestly, it was fate." 
LaBarba said he was the only physician aboard the Boeing 777 flight carrying more than 300 passengers that day. He had even requested the flight attendant to address the cabin to ask if there were any other medical professionals on board, but came up empty. LaBarba had just re-certified his Basic Life Support and Advanced Cardiac Life Support training prior to graduation, which every school of medicine graduate receives. 
The new doctor encourages people to receive CPR training in case of an emergency such as this. According to LaBarba, every second counts in saving a person's life. "If more people were trained in the basic life support techniques, it would help immensely," LaBarba said. 
He began his residency in internal medicine at Kaiser Los Angeles on July 1, 2018. As he prepares for his program, he said he will always remember this particular day.
"It confirmed my calling and desire to help people," LaBarba said. 
— This article originally appeared on the Loma Linda University Health website.
kmaran
Tue, 07/17/2018 - 21:38
Oakwood University Aeolians Win at World Choir Games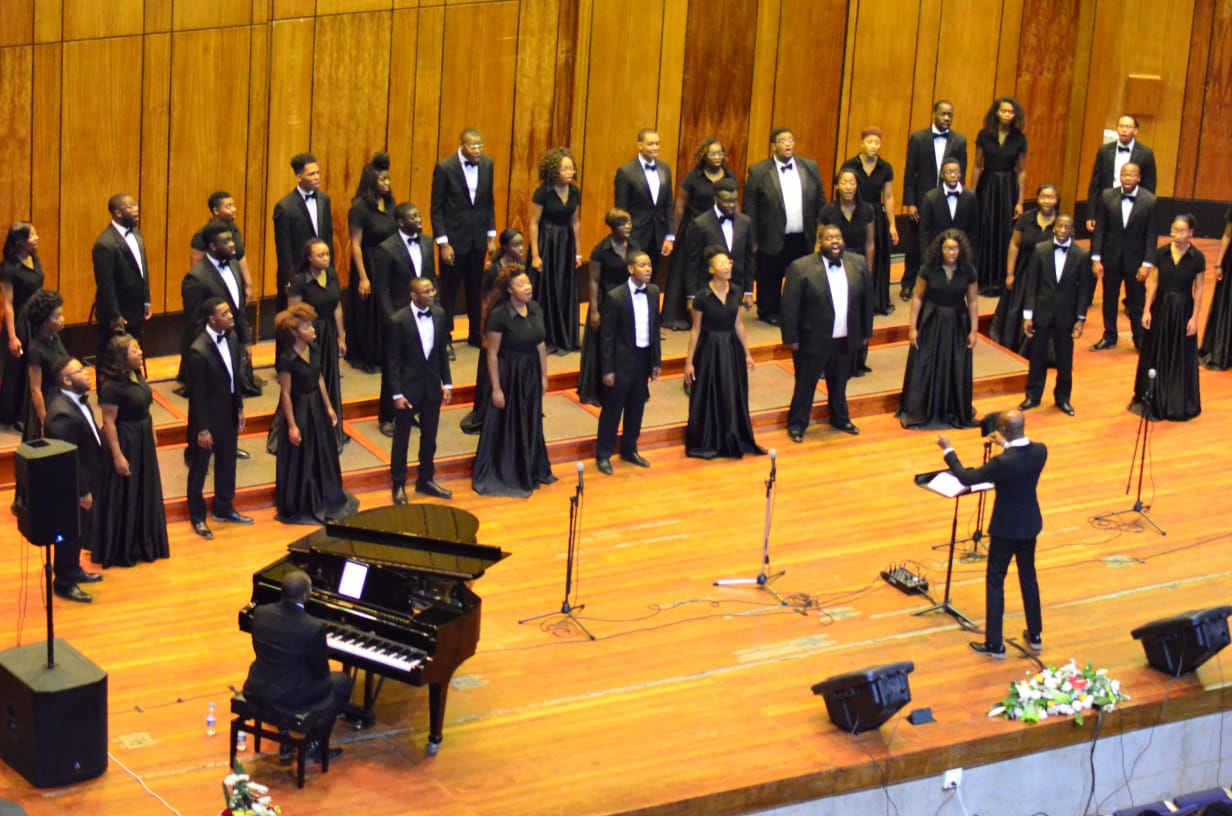 Oakwood University Aeolians achieves highest scores in two categories to win big at the 10th edition of World Choir Games in Tshwane, in the northern part of South Africa. Competing in the categories of Spirituals, Musica Contemporanea, and University and College, the Aeolians bested more than 14 other choirs from around the world to triumph, not only with the highest score in two of the three categories, but also winning three gold medals — two of which were championships at the biennial event.
The invited assortment of choirs this year hailed from around Africa, from Europe to Sweden and beyond, as well as furtherflung locales like Singapore, Indonesia, Argentina, and the United States. INTERKULTUR, organizers, hosted the world's largest choir competition for the first time on the continent of Africa with Tshwane as the host city. This year marks the 30th year of the games and 11 days of competition, the Aeolians repeated their gold medal wins from the 2012 World Choirs Games in Cincinnati, Ohio.
"We are delighted to acknowledge, to the glory of God, the hard work, and sacrifice of the Aeolians and their leadership," says Dr. Leslie Pollard, President of Oakwood University. "The Aeolians represent a treasure for our Seventh-day Adventist Church, the city of Huntsville, the state of Alabama, and our United States of America. Congratulations to Dr. Jason Ferdinand, our music department, and especially our devoted students, who compose this world-renowned group. Having toured with them in South Africa last week, the message was clear — Oakwood University is all about excellence!"
Oakwood University, a historically Black Seventh-day Adventist institution of higher learning, offers quality Christian Education that emphasizes academic excellence, promotes the harmonious development of mind, body, and spirit, and prepares leaders in service for God and humanity. More information about Oakwood can be found on their website at www.oakwood.edu.
kmaran
Tue, 07/17/2018 - 21:25
Why What Happened in Guatemala Matters Here
Sixteen young Walla Walla University students and pastoral interns learned something life-changing through their evangelistic trip to Retalhuleu, Guatemala, during spring break, March 22-April 1, 2018. They all knew it in theory, but for the first time some of them directly experienced how eternal decisions are made when the Spirit moves.
In planning this project, César De León, North Pacific Union Conference (NPUC) vice president for Hispanic ministries, set a goal of partnering these young spiritual warriors with experienced mentors. "We wanted to have them see how evangelism works in another country, to help them understand the value of allowing the Spirit to bring people to points of decisions for Christ," he says.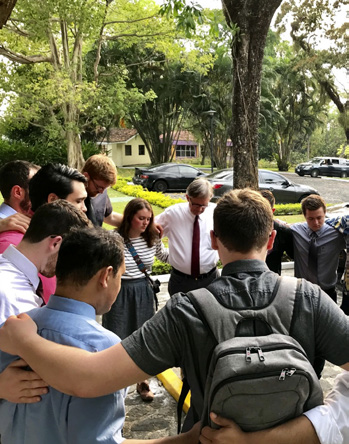 Eleven students and five ministerial interns joined in this effort with De León and his wife, Carolann; John Freedman, NPUC president; Doug Bing, Washington Conference president; and David Prest, Idaho Conference president. They met each morning to review their experiences and discuss important points of growth, before heading out in the evening to 20 separate meeting in surrounding communities.
The young people learned that whenever the Word of God is presented the Spirit is present, creating opportunities for decisions. They began to understand that, while salvation is a gift, receiving that gift requires a decision — Do you really want to make this part of your life? They learned that every sermon should give an opportunity for eternal choices.
One of the interns came into the experience discouraged, feeling they were making no difference in the life of their church or community. During their time in Guatemala, their entire view of ministry changed. They were able to see the Spirit at work and the value of intentional evangelism — sharing the gospel and inviting people to embrace the good news for now and eternity. They have returned with new vision and hope.
"Our expectations of providing a learning and empowering experience for future and current young pastors were exceeded in Guatemala," says De León. "We are so grateful that we could be part of what God is doing among the people there. We return with renewed energy to accomplish His mission here at home."
— This article was originally published in the July/August 2018 North Pacific Union Gleaner and is republished here with permission; click here to read about experiences from some of the students/interns.
kmaran
Tue, 07/17/2018 - 20:09
---